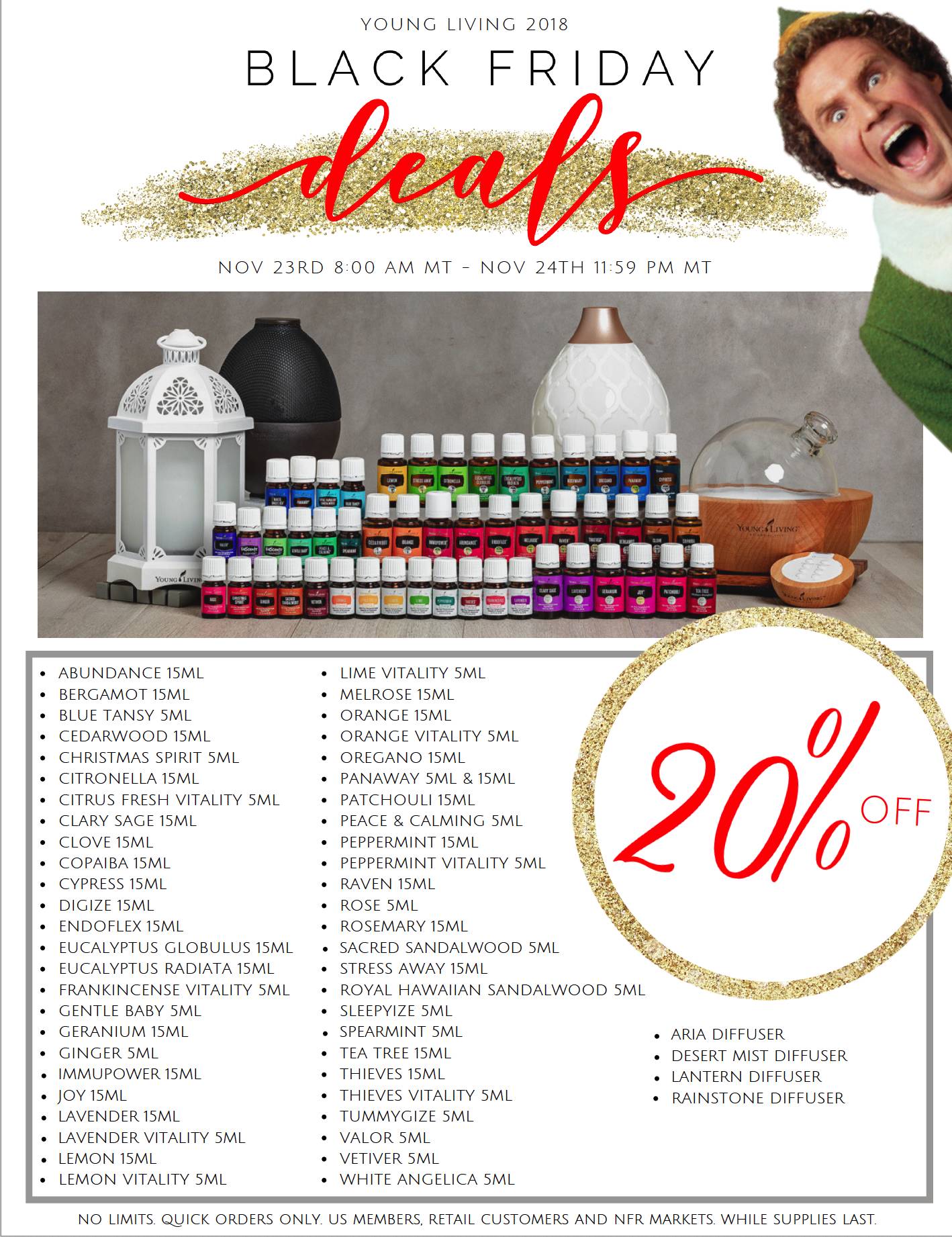 🎉BLACK FRIDAY DETAILS ARE HERE! ARE YOU EVEN READY FOR THIS AWESOMESAUCE!?!
50, I said F-I-F-T-Y, of your most Favorite Oils and 4 of YL's Best Diffusers will be 20% off starting Friday morning at 10am EST. 🙀🙌🏻 Friends have never in their years with YL seen a sale like this!! Even Rose and Sandalwood are ON SALE?! I just.cant.even! 😍 🌹
Take a closer look 👀 at the sale items here: YLBlackFriday2018 👇🏼 Tell us, what are you for sure grabbing!? 🛒 • • • • • • • • • • • • • • •
FAQs:
👉Sale starts at 8am MST this Friday and ends at 11:59pm MST
👉No limits!!
👉You can earn an EXTRA set of promos from YL!! Oh yes. You read that right!! Normally you can only earn 2 promos a month, 1 ER and 1 QO-but they are letting us earn 2 QO sets of promos!! 🙌🏻🎉
👉This sale is for US only, but is NFR eligible
👉Quick order only
👉No ER point redemptions
👉You can use a credit if you have YL GO+ for free shipping!
🛒🛒 Black Friday Discount List 🛒🛒
15-ml Abundance | 3300D | $30.40 | 30.40PV
15-ml Bergamot | 3503D | $22.20 | 22.20PV
15-ml Cedarwood | 3509D | $9.20 | 9.20PV
15-ml Citronella | 3085D | $16.00 | 16.00PV
15-ml Clary Sage | 3521D | $39.00 | 39.00PV
15-ml Clove | 3524D | $12.60 | 12.60PV
15-ml Copaiba | 3431D | $35.40 | 35.40PV
15-ml Cypress | 3530D | $15.80 | 15.80PV
15-ml DiGize | 3324D | $27.00 | 27.00PV
15-ml Endoflex | 3333D | $22.60 | 22.60PV
15-ml Eucalyptus Globulus | 3539D | $11.80 | 11.80PV
15-ml Eucalyptus Radiata | 3538D | $15.80 | 15.80PV
15-ml Geranium | 3554D | $34.00 | 34.00PV
15-ml ImmuPower | 3363D | $51.60 | 51.60PV
15-ml Joy | 3372D | $34.40 | 34.40PV
15-ml Lavender | 3575D | $19.40 | 19.40PV
15-ml Lemon | 3578D | $9.20 | 9.20PV
15-ml Melrose | 3378D | $16.20 | 16.20PV
15-ml Orange | 3602D | $8.80 | 8.80PV
15-ml Oregano | 3605D | $22.80 | 22.80PV
15-ml PanAway | 3390D | $65.40 | 65.40PV
15-ml Patchouli | 3608D | $27.80 | 27.80PV
15-ml Peppermint | 3614D | $17.60 | 17.60PV
15-ml Raven | 3402D | $28.60 | 28.60PV
15-ml Rosemary | 3626D | $12.80 | 12.80PV
15-ml Tea Tree | 3587D | $21.40 | 21.40PV
15-ml Thieves | 3423D | $27.80 | 27.80PV
15-ml Stress Away | 4630D | $24.40 | 24.40PV
5-ml Blue Tansy | 3084D | $75.80 | 75.80PV
5-ml Christmas Spirit | 3356D | $8.40 | 8.40PV
5-ml Citrus Fresh Vitality | 5619D | $6.00 | 6.00PV
5-ml Frankincense Vitality | 5587D | $24.40 | 24.40PV
5-ml Gentle Baby | 3362D | $17.40 | 17.40PV
5-ml Ginger | 3557D | $10.80 | 10.80PV
5-ml Lavender Vitality | 5590D | $9.60 | 9.60PV
5-ml Lemon Vitality | 5625D | $5.00 | 5.00PV
5-ml Lime Vitality | 5591D | $4.60 | 4.60PV
5-ml Orange Vitality | 5627D | $4.80 | 4.80PV
5-ml PanAway | 3391D | $29.00 | 29.00PV
5-ml Peace & Calming | 3398D | $27.80 | 27.80PV
5-ml Peppermint Vitality | 5628D | $8.20 | 8.20PV
5-ml Rose | 3623D | $152.80 | 75.00PV
5-ml Royal Hawaiian Sandalwood | 4746D | $78.00 | 78.00PV
5-ml Sacred Sandalwood | 19651D | $79.80 | 59.80PV
5-ml SleepyIze | 5307D | $13.80 | 13.80PV
5-ml Spearmint | 3638D | $8.80 | 8.80PV
5-ml Thieves Vitality | 5631D | $11.80 | 11.80PV
5-ml TummyGize | 5305D | $10.40 | 10.40PV
5-ml Valor | 3430D | $31.80 | 31.80PV
5-ml Vetiver | 3651D | $17.00 | 17.00PV
5-ml White Angelica | 3428D | $23.00 | 23.00PV
.
Desert Mist™ Diffuser | 21558D | $51.00 | 30.60PV
Rainstone® Diffuser | 5331D | $139.80 | 83.80PV
Aria™ Diffuser | 4524D | $185.40 | 111.40PV
Lantern Diffuser | 23700D | $67.80 | 40.60PV