Did you know that Copaiba essential oil has a higher percentage of CBD oil than other sources? This is great news and something that research has finally revealed since Copaiba is so much less expensive, safer and readily available.
CBD oil (Cannabidol Oil) is traditionally sourced from hemp plants and is the non-psychoactive extract of the marijuana plant which does not trigger anxiety or a high. Instead, CBD oil is known to create relaxation making it a key reason it is a safer health option.
Researchers have found that Copaiba has tremendous properties in supporting the health of our bodies especially in supporting reduced inflammation and antibacterial wound-healing properties. (1) In addition, research into CBD has shown high potential in a number of areas including chronic pain, anxiety, depression and even autoimmune illnesses. And other studies have found that it can aid in overcoming dependencies to substances such as alcohol.
CBD oil produced from marijuana has another significant health challenge. To reduce the cost of producing the product, much of today's CBD oil is sourced from marijuana grown outside of the United States in areas that have been contaminated by radiation and other toxins such as heavy metals. By the reductive process of distilling the plant to produce the CBD oil, this means that the final oil ends up having excessive amounts of these harmful toxins.
Copaiba with its high amounts of CBD oil has also been known to support pet health in areas of reducing anxiety, chronic inflammation and even supporting reduced seizure activity. (2)
The list goes on and on but the most important thing is that if you feel CBD oil can help you, Copaiba can be your safest and most affordable solution. Do your own personal research focusing on the areas you would most like to support or reach out to us and we can do the research for you.
Remember that not all oils are created equally to ensure you are getting 100% pure Copaiba oil and not one that has been diluted or cut with toxins such as synthetics or grown in regions that are not monitored to ensure purity. This is why I personally only use oils from Young Living because of their Seed to Seal promise.
How to use Copaiba Oil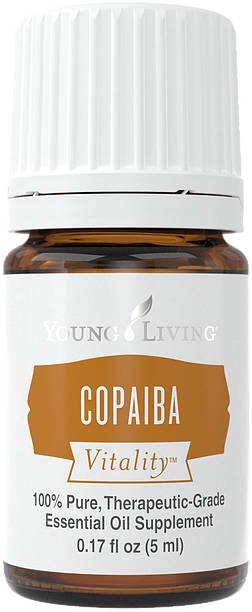 Copaiba can be used in three helpful ways – aromatically, internally and topically.
Aromatically: Simply add three to five drops to your diffuser to help promote a good night's sleep and a healthy immune system.

Internally: Add 1-2 drops under your tongue, to juice, or a veggie cap twice a day.

Topically: If you are new to using Copaiba, it is recommended to dilute the oil before applying to the skin. You can blend 2 drops of Copaiba with 5 drops of a carrier oil such as coconut or Jojoba oil. You can also prepare a roller bottle with this ratio to have on hand for future use.
Sources
Disclaimer
This information is applicable ONLY for therapeutic quality essential oils. This information DOES NOT apply to essential oils that have not been tested for purity and standardized constituents.
This material is for information purposes only and is not intended to diagnose, treat, or prescribe for any illness. You should check with your doctor regarding implementing any new strategies into your wellness regime. These statements have not been evaluated by the FDA.